During last year's //build event, developers who attended the event were given a special build (sorry for the pun) of Samsung Series 7 Slate (700T) loaded with Windows 8 Developer Preview.
With the release of Windows 8 Consumer Preview on 29th Feb 2012, Samsung has decided to share the love with current existing Samsung Series 7 Slate owners!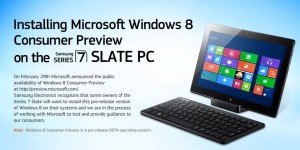 Here is the official guide on Installing Windows 8 Consumer Preview on Samsung Series 7 Slate from Samsung. If you are wish to skip the website, you may find and print a pdf version of the guide above here.
Drivers  & Tools
Samsung Series 7 Slate Firmware Update Tool
Samsung Series 7 Slate Rotation Sensor Driver 32bit
Samsung Series 7 Slate Rotation Sensor Driver 64bit